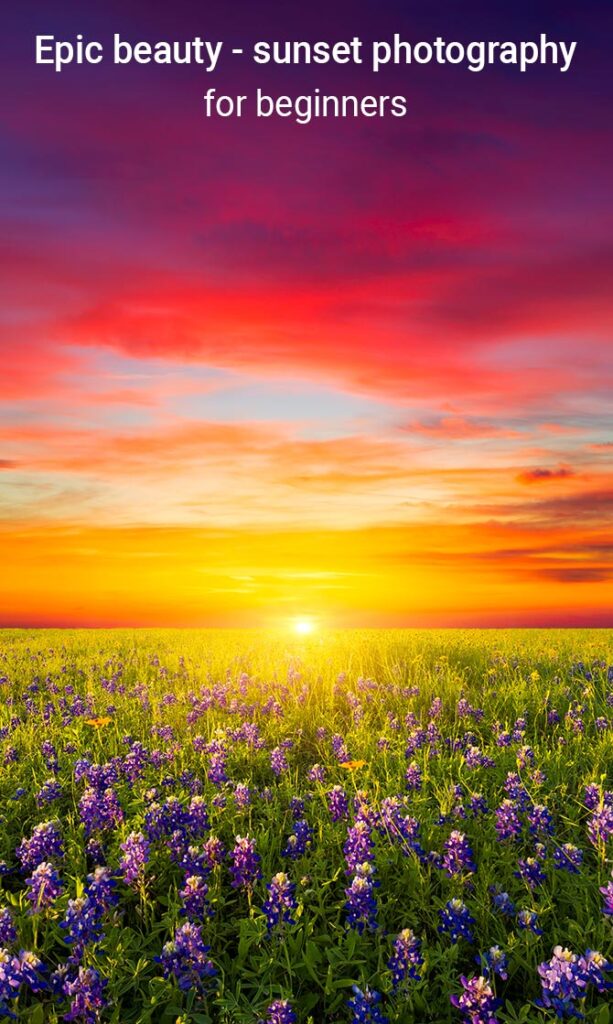 There is nothing more magical than a sunset. It signals that a new chance is not far away and that tomorrow is almost here.
It's even been said that sunsets give us gratitude for the earth. How could you not with such epic beauty?
A sunset shot is undoubtedly the pinnacle of nature photography. Sunsets are inherently beautiful, which is why we love to photograph them and retain the memory forever. However, capturing a stunning sunset in all its beauty can sometimes be a challenge.

If you're keen to rise (or set) to the occasion, these sunset photography tips will have you shining bright in no time!
Plan ahead
A goal without a plan is just a wish, right? And this absolutely holds true when photographing sunsets. If your goal is to capture beautiful and interesting images, you need to plan ahead before taking the shot.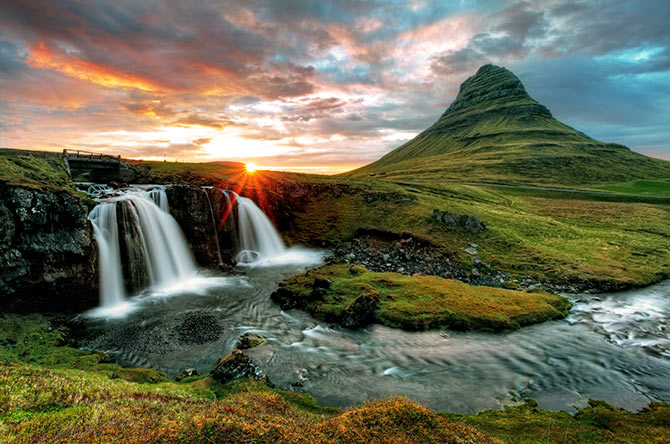 These questions should help you create an actionable plan:
Where do you want to take the sunset photograph?
How is the weather in your chosen location? Will it be warm or is there likely to be a downpour?
What kind of sunset photography do you hope to achieve? What kind of image do you want to walk away with?
Will your sunset photograph feature a natural landscape element? Think rivers, mountains, plants etc. And don't forget to plan for busy seasons.
Are you going to require additional accessories? If you are going for a professional or more complex shot you may need the right equipment.
Planning your photograph beforehand is the best way to ensure that everything goes smoothly and you get an amazing shot before the sunset is over.
Rule of thirds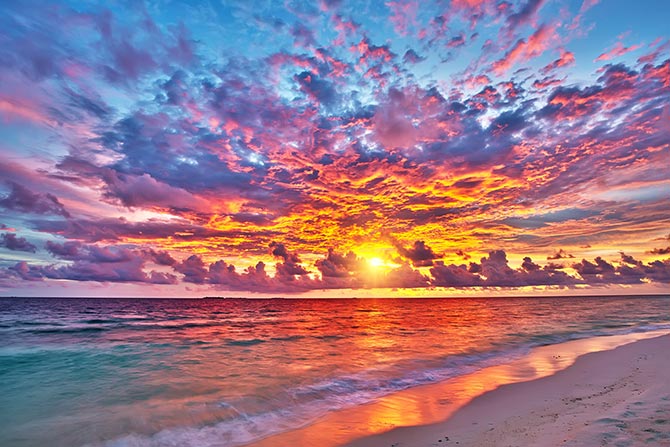 You can get great sunset photos by following the rule of thirds and placing the sun and other elements off centre.
When squaring off the shot, mentally divide your image into three equal horizontal and vertical columns. Then position the important elements in your shot along those lines, or at the points where they meet.
'… if you place points of interest in the intersections or along the lines then your photo becomes more balanced and will enable a viewer of the image to interact with it more naturally,' Digital Photography School.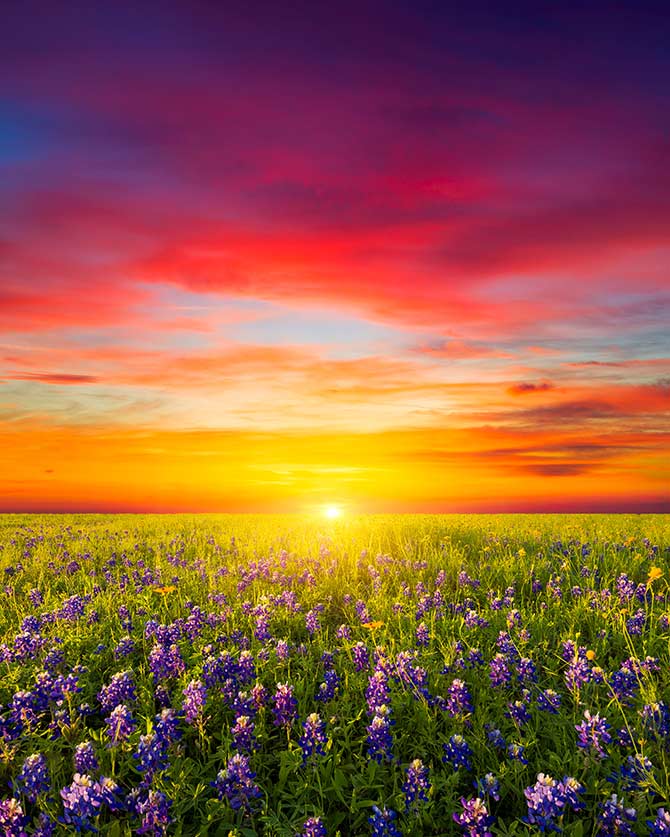 Images taken this way are more pleasing to the eye and look more natural than centred images. By composing the shot and contrasting colours according to the rule of thirds, you can produce dynamic and interesting photos.
Timing is everything
A secret to amazing sunset photography (just like life really) is being at the right place at the right time. Arrive at your location half an hour before the sun is due to set to give yourself enough time to capture the perfect shot.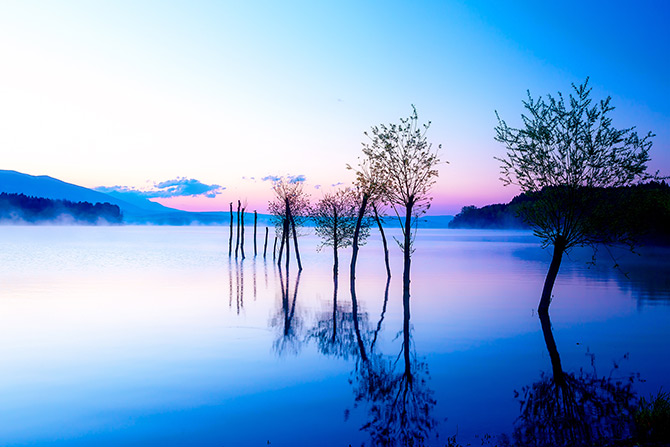 That way you can photograph the sun setting in its various phases and you may just get lucky; sometimes there is a second burst of colour in the sky after the sun has melted into the earth (not literally).
Not every sunset is the same. Sometimes the sky is completely aflame and other times the sun just delicately dips into the ocean, as it bids us goodnight. For every degree the sun moves, you may have a completely different colour palette to experiment with.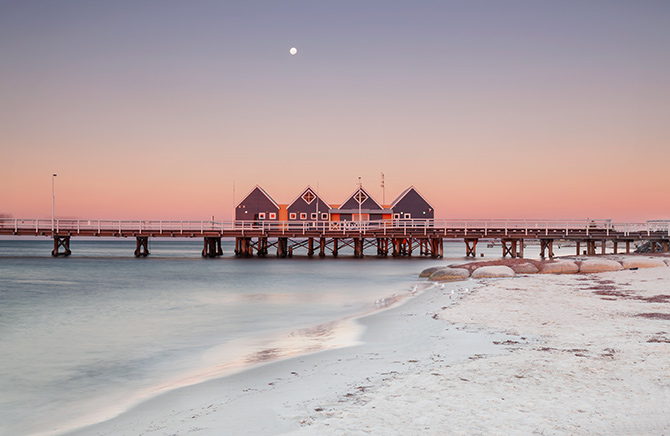 Tip: Just before the sun is about to set, you could set your aperture to something high like F/22 which will show off the sun's rays and give an almost starburst effect.
Take advantage of natural landscape elements
One of the great things about sunsets is the beautiful golden light they produce. This creates a plethora of opportunities for breathtakingly beautiful photos.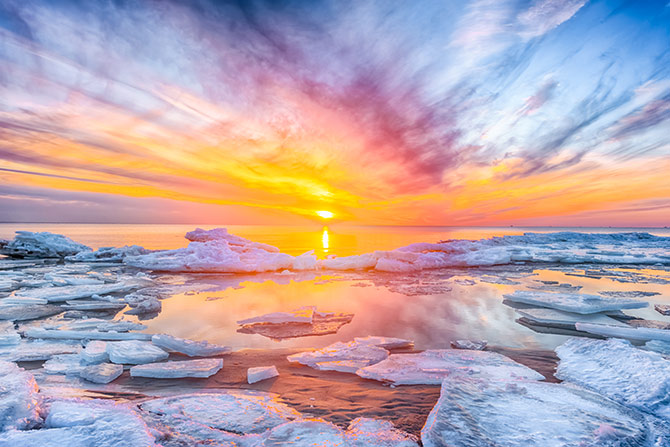 Take advantage of the natural landscape around you – if you're near a body of water, use it in your image to further enhance the allure. Water is nature's mirror and can double the beauty of a sparkling sunset.
You can also use natural landmarks, hills and mountains etc to make your water photography more interesting and provide comparative texture.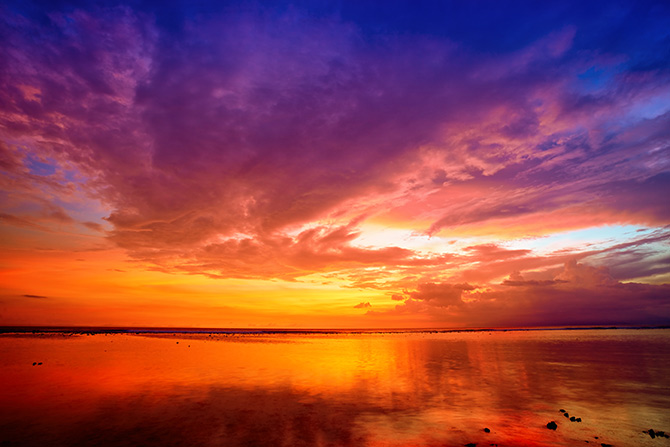 Tip: Remember to follow the rule of thirds when composing your image.
Viewpoints and focal lengths
Your choice of viewpoint and focal length setting will make a big difference. You may be tempted to shoot at a wide angle to create a sweeping landscape where the sun takes up a reasonably small part of the photo. But if you plan on making the sun a primary feature of your shot, you'll have to zoom in using anything from a 200mm lens upwards. This will give you more control over how your image appears and also give you more of the sun to work with.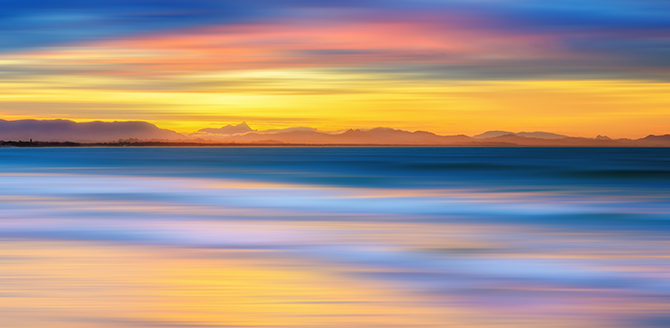 Use a silhouette
Every picture needs a point of interest and silhouettes are a good choice for sunset photography. Apart from making your image more interesting, they'll also add some mood and context to your photo. Speed up the camera's shutter speed to take a clean silhouette – just be sure to pick something with a recognisable shape.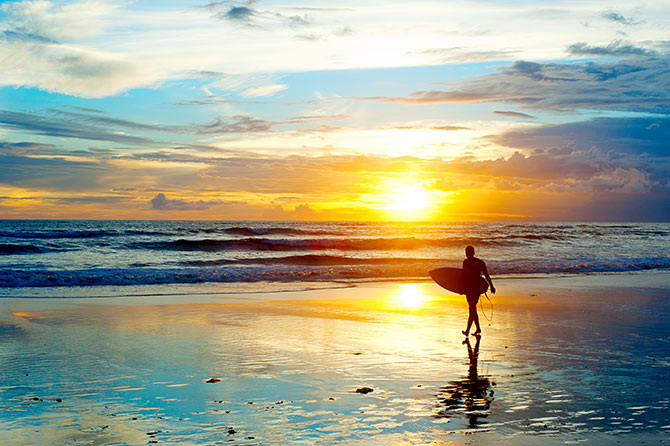 People are an obvious choice when it comes to capturing an interesting silhouette. Don't forget to also consider buildings and monuments.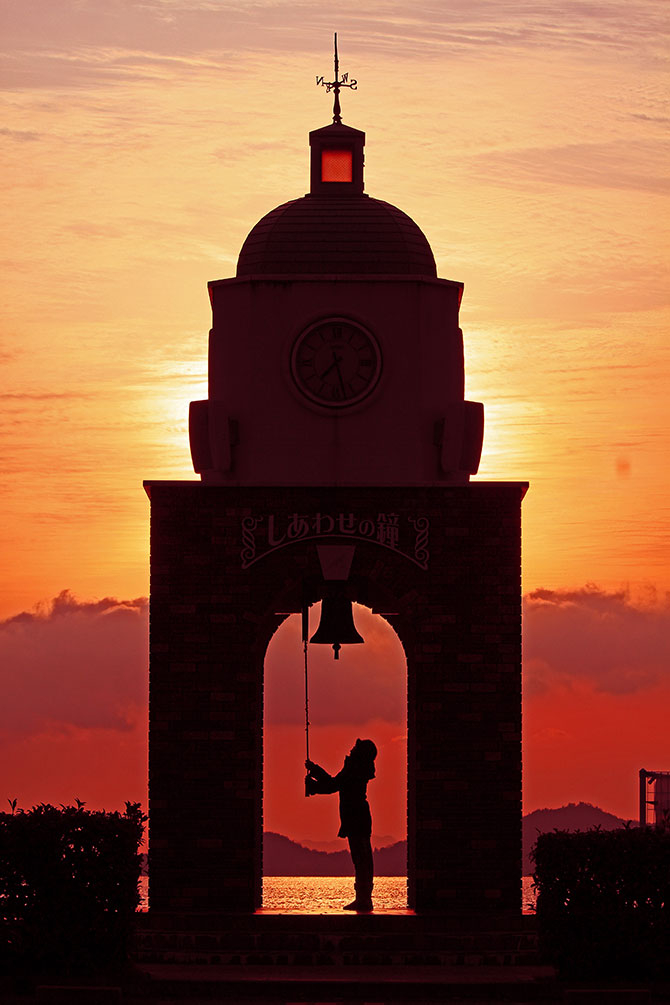 Pick the right focal point
You can make anything your focal point – a city skyline, person, animal, landmark or even clouds. The key is finding something that has a recognisable shape and lets the sun shine through/on it. Try lining up your shot with the golden light cast around the shape; jetty photography is an easy place to start for beginners.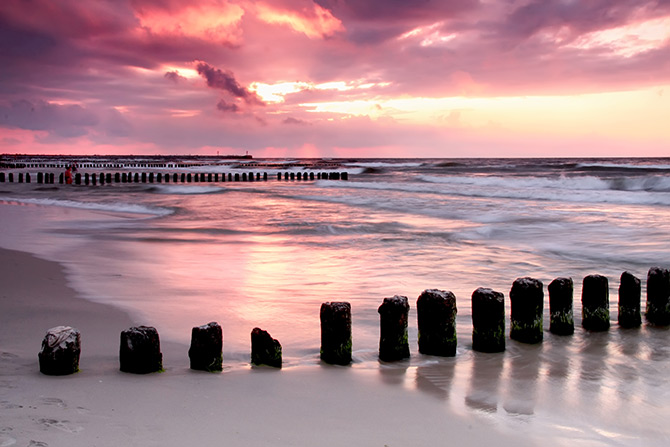 Jetties, piers, boats and lighthouses are terrific focal points that don't detract too much from the sunset. Or even a road!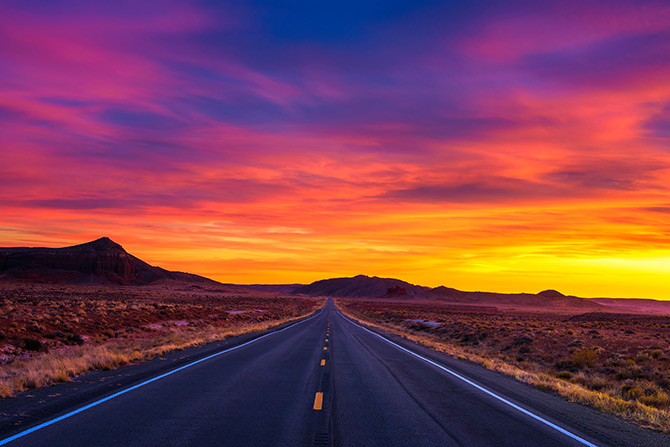 Try different exposures
If you rely on your camera's default setting, it's likely you will be unable to capture the raw beauty of the light. To make your sunset look more dramatic and defined, try different exposure settings. In extreme lighting situations, your camera might not interpret the scene in the way you expect, so have some fun and experiment.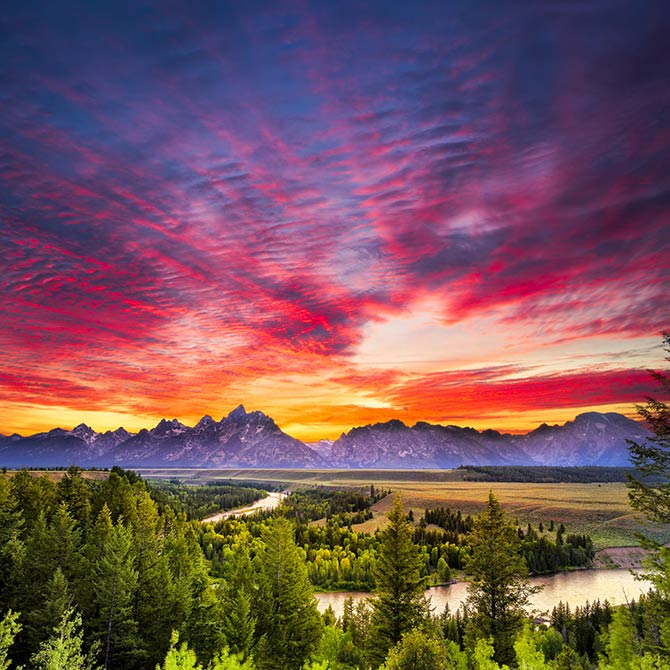 You can easily control the exposure level by switching to aperture or shutter priority mode. Higher shutter speeds (lower exposures) produce crisp, clean images without blurs. Images taken at lower shutter speeds show movement, create a smoothing effect, and provide an ethereal effect.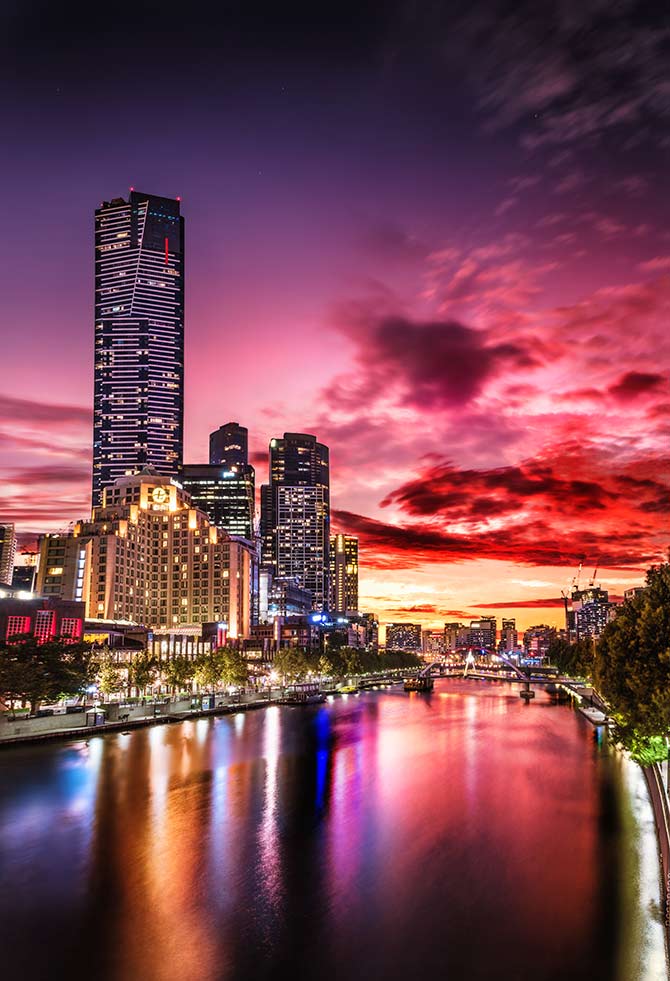 Neutral Density filter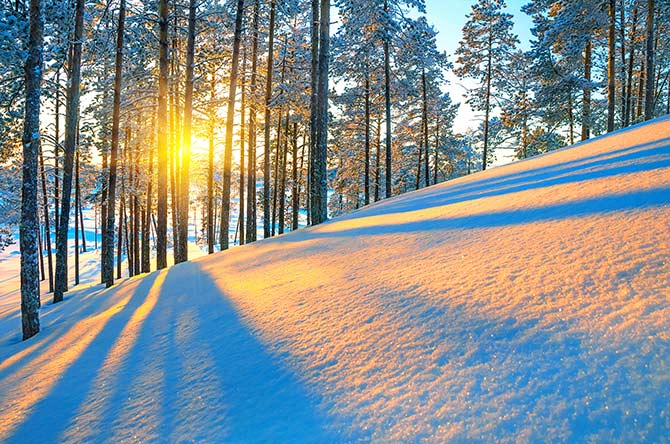 Neutral density filters reduce the amount of light entering a lens, allowing you to manually select settings so that images aren't overexposed.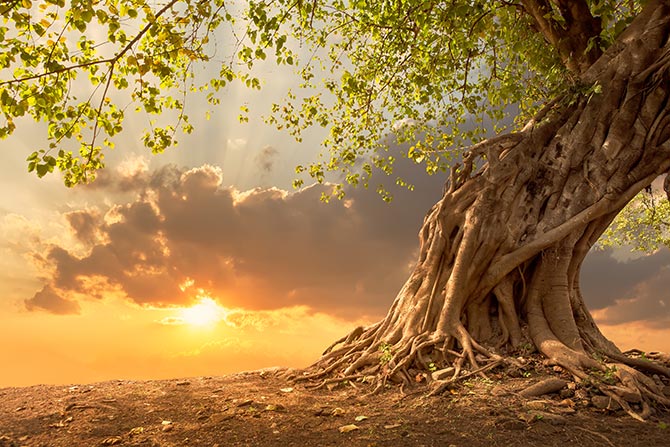 This will allow you to achieve a shallower depth of field and a more natural looking shot. Perfect if you are trying to capture the raw beauty of a sunset.
Ready to embark on your new photography journey? Browse through our sunset photographic art collection for more great ideas and inspiration!