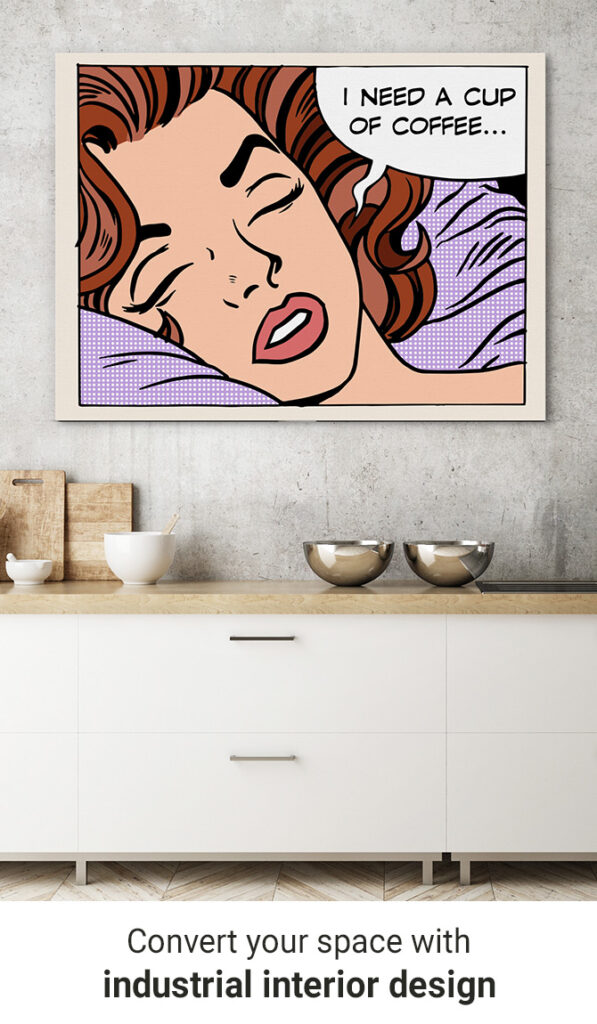 What is industrial interior design?
Industrial interior design is a style that is informed, as the name suggests, by the factory look. Mainly comprising of sparse warehouses and industrial workshops and the items they contain, which are repurposed for a funky, grounded look. Converted buildings, turn of the century factories, warehouses and refineries are all prime for this interior design style.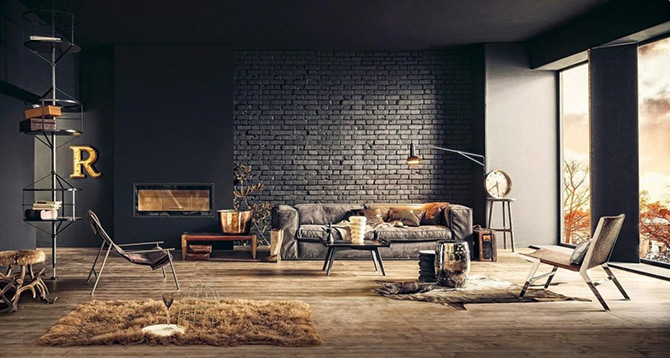 This look is all about combining the pleasing aesthetic of raw and rough materials with polished and streamlined items. It borrows from the philosophy of minimalism by keeping areas clutter free with minimal items of furniture.
The theory behind industrial interior design is that baring all with extreme open plan living makes things look great. It's about unashamedly putting the working structural parts on display, rather than hiding them.
It's especially favourable for spaces that have unavoidable pipes, beams, ducts and vents that can't really be disguised. This interior design style takes complete advantage of that!
A reasonably modern style, industrial interior design emerged as a popular trend in the early 2000s and still remains a favourite among people of all ages. The ultimate in urban living décor, it offers an opportunity to mix new items with your favourite vintage pieces. A celebration of when utility meets minimalism meets working class.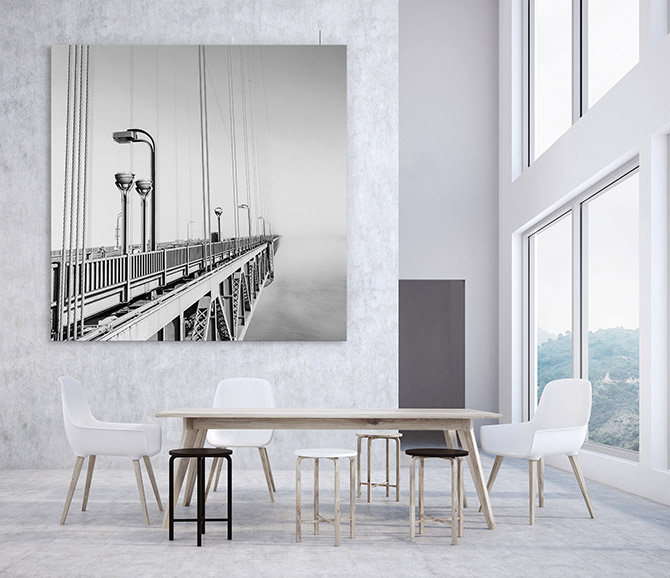 One of the great things about industrial interior design is that it looks just as great in the bathroom as it does in the bedroom or kitchen. In fact, you can easily apply the style throughout your entire house!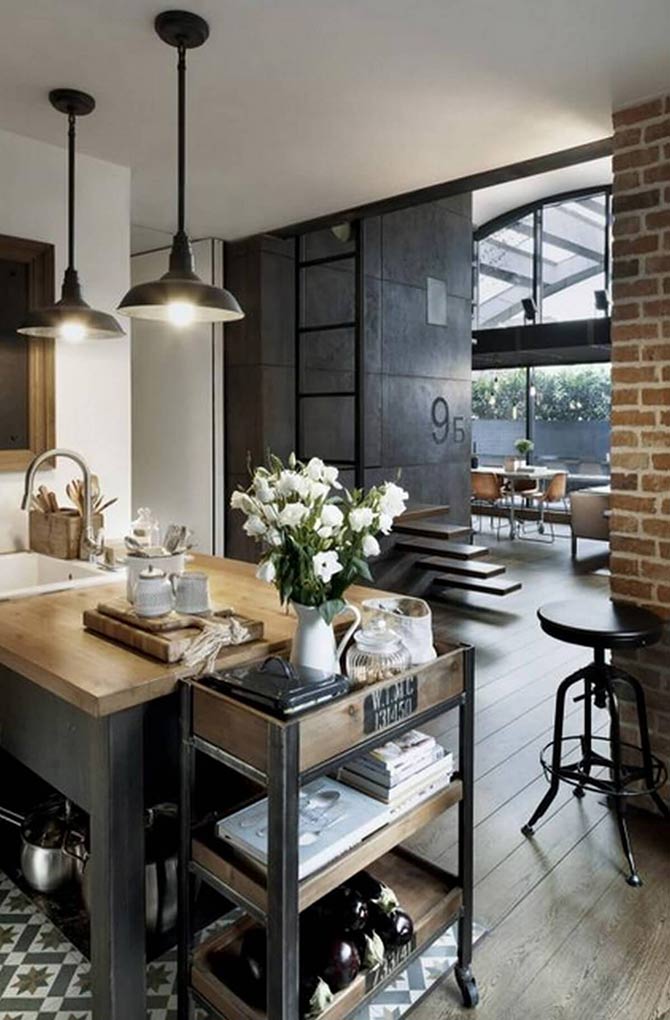 To emulate the industrial look in your own home, these are some of the key features to consider.
Exposed surfaces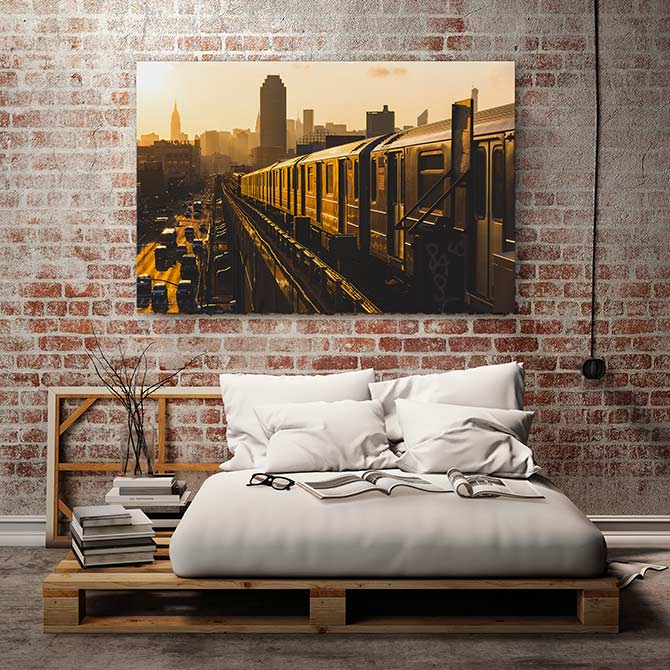 When it comes to industrial interior design, exposed brick, whitewashed floorboards and polished concrete are the epitome of this popular style.
Surfaces should have a rustic look, which applies to most fixed areas including walls, floors, stairs, window frames and door jambs.
Glass or wooden table slabs atop oversized castors (painted glossy black) are signature industrial design items. This feature works for coffee or dining tables, kitchen islands, bed frames and even storage units.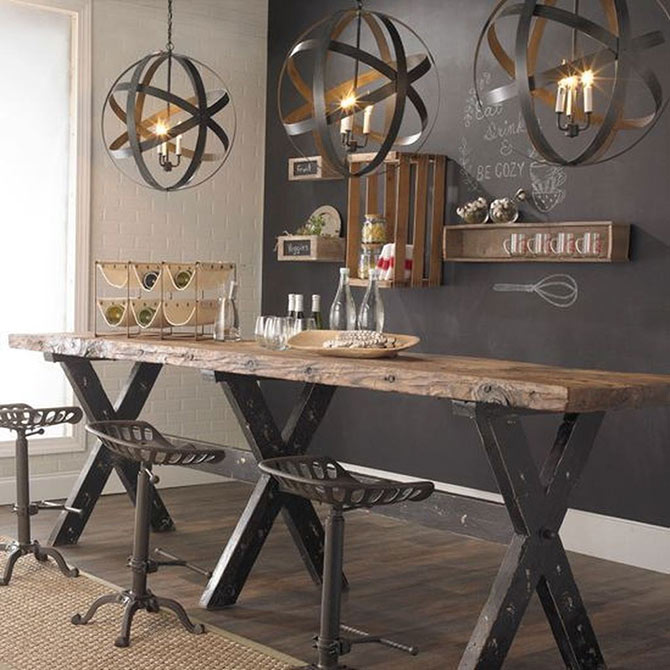 Reclaimed or weathered wood is an ideal texture for the industrial styled home and can be used for flooring, ceilings, stairs and other furniture surfaces. For variety, try mixing a range of materials – timber, metals, brick, concrete etc – as long as they are on theme. Distressed wood and black wrought iron work really well together in the one piece of furniture.
Utility lighting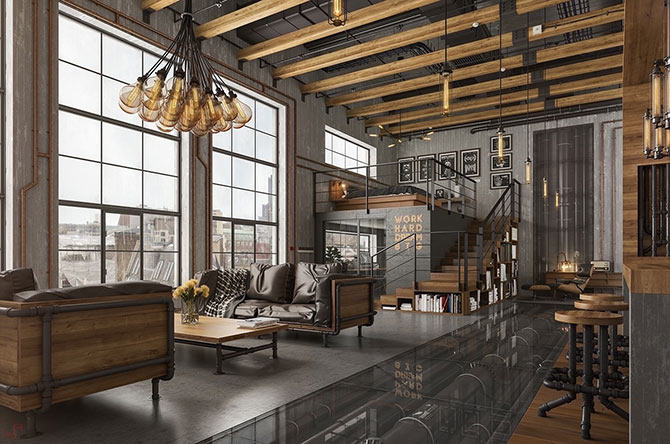 Typically, industrial interior design lighting offers a chance to be dramatic. Think Edison bulbs, pendant lighting with visible cords, bulb cages and geometric shapes with artful metalwork.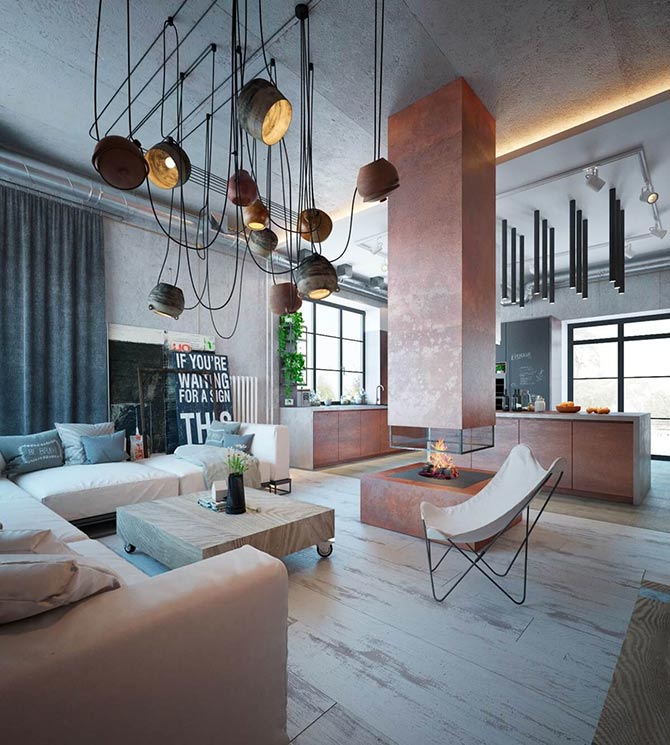 Lighting and furniture that utilises parts of original machinery are also cherished characteristics of this interior style. Get creative and aim to repurpose objects wherever you can.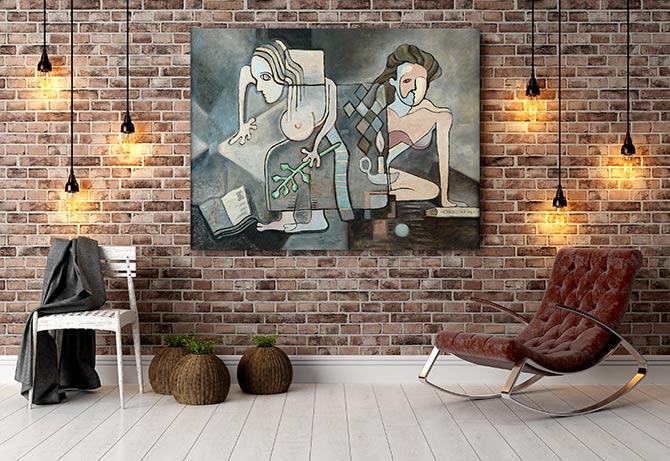 Neutral base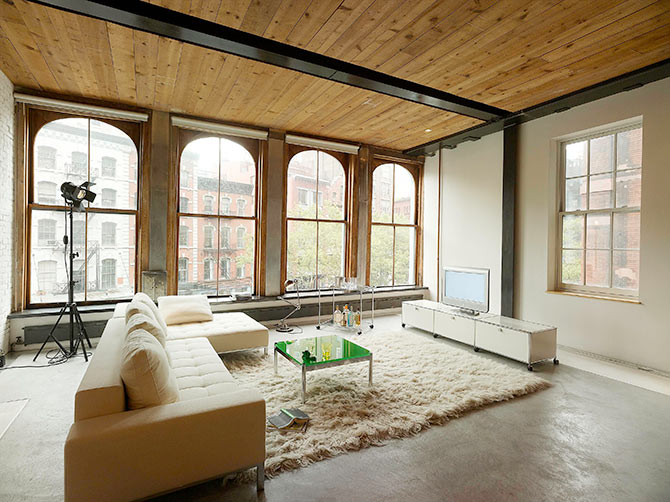 Create your base with neutral colours in mind. Cream and soft greys are ideal, particularly as much of your colour scheme will be born from the natural materials around you – the terracotta of exposed bricks, tan from weathered timber and deep greys from polished concrete.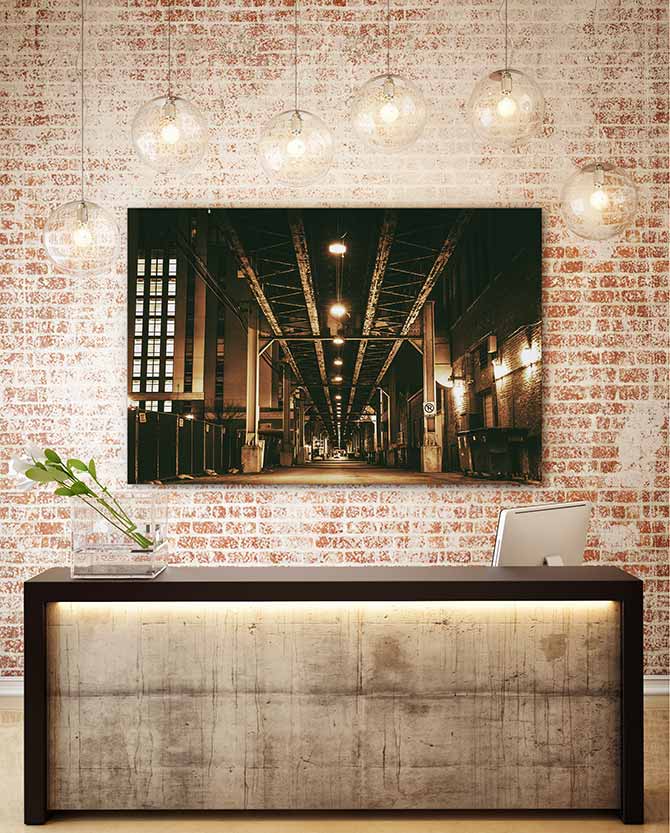 Raw materials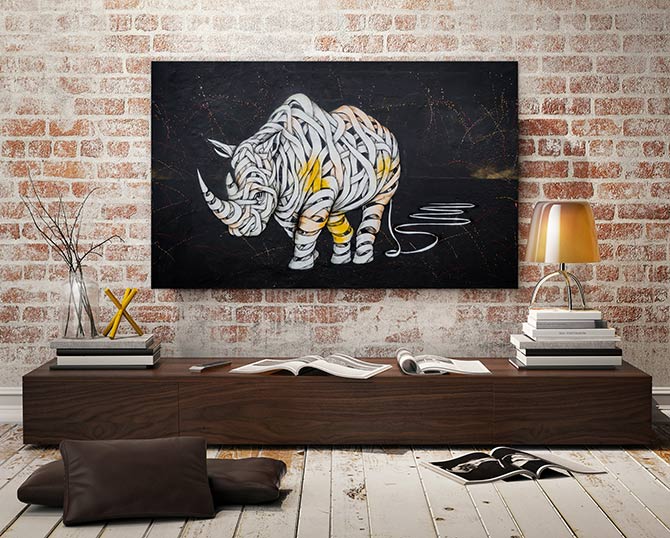 Raw and bare look materials are staples when it comes to industrial interior design. Materials that work really well to complete the look and get the feel include:
exposed wood beams
repurposed railway sleepers
pine
hessian
black metal and
copper pipes.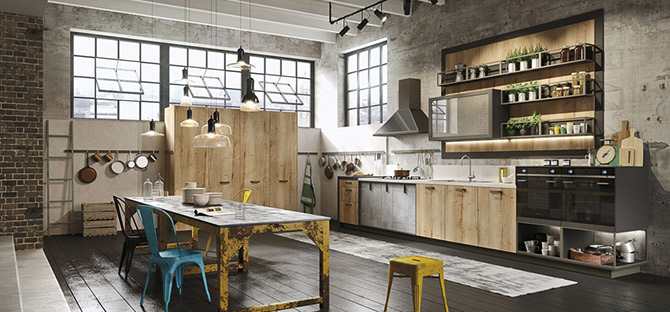 Retro artwork
One of the challenges with the industrial look is that it can present as cold and unwelcoming. Try adding pops of colour and personality with ornaments and other decor items. Trendy retro art will add a cosy touch and really warm up your living space.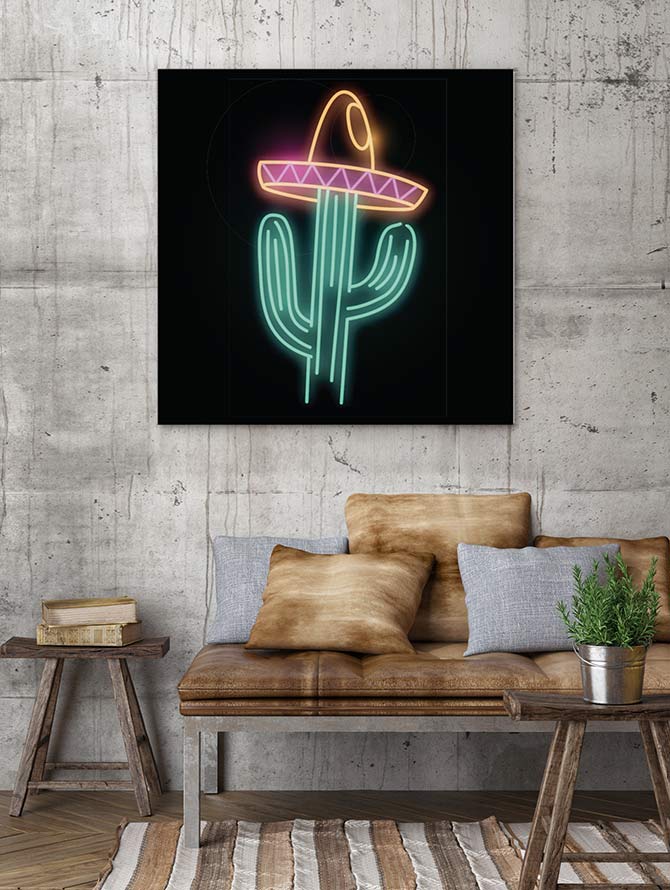 To complement the edgy feel of this style, street or urban art also works superbly and highlights the gritty yet funky nature of the decor.
Last but certainly not least, pop art makes for a bold and bright choice and honours the legacy of Andy Warhol, who activated this decor trend by moving into a warehouse in the sixties.