The human brain is amazing: It's capable of incredible creativity, inspiration, precision… and boredom.
We've all experienced it: You move into a new place or gut-renovate a room, and for a while it's an amazing moment every time you walk in. Then, slowly, the shine fades. The floor gets a scratch, you get tired of that bold paint colour, and the smart-looking modern couch is really uncomfortable. Mostly, your eye just gets tired of the space. Someone else can walk in and be amazed, but you don't really see it any more.
We can't always tear everything down and remake a space like our living room. Money, for one thing, limits us. Time does too, and with a living room and a family you've got the issue of closing off one of the most used rooms in the house while you re-invent it. The good news is, you don't need a lot of time or money to re-invent a room. What you do need are some creative living room decorating ideas.
The One Day Redesign
Our goal is a one-day redesign of the living room, starting the second everyone's out of the house (to school or the workplace) and ending just in time for everyone to come home. We're going to work on the assumption that we don't have a lot of money to work with and we're not a superhero, so knocking down walls and re-routing electrical wires is probably not an option.
The good news is, we've got plenty of living room decorating ideas that don't require too much time or money. But first, some prep:
Clear out the room. Roll up the mat, pull everything from the walls and surfaces, and move out the furniture.
Clean. You may never get a better chance to clean under the couch, and it's always amazing to see what's trapped under your mat.
Now we're ready for some cheap and easy, yet dramatic, changes.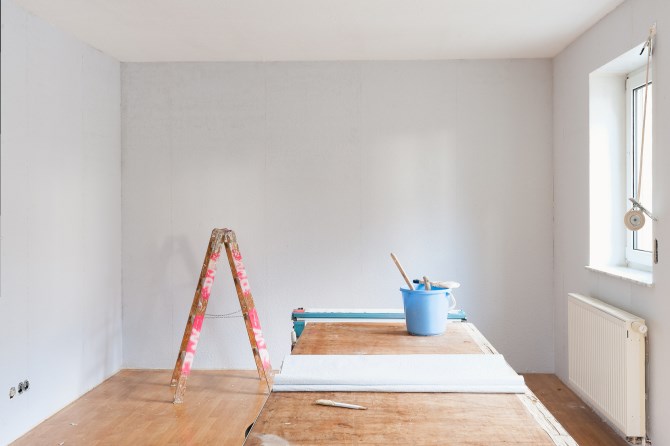 Start Small
The easiest, cheapest dramatic change you can make in any room is simple: Paint.
Paint is so basic it often gets overlooked, but changing the colour palette can have an instant and amazing effect on the room. If you're keeping the mat and furniture, start with them to find your new palette so that everything works. Our advice: Go in the opposite direction of your previous colours. If you had soft, complementary walls before, go for the drama this time with something bright or dark.
Also, consider an accent wall if appropriate. An accent wall should be a smaller horizontal space in the room, and gets a bold, dramatic shade painted on it. If you're going bold in the bulk of the room, however, an accent wall can feel overdone.
And the final great thing about a fresh paint job? It covers all manner of sins and makes walls that have seen some hard times look fresh and new. Often this is all you need to make the room feel like a full renovation.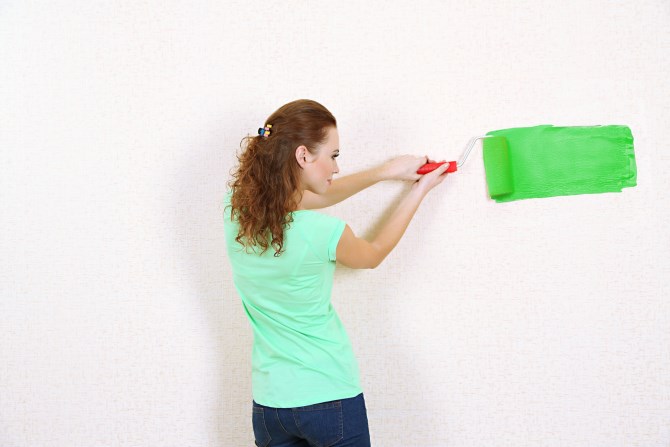 The Power Of Wall Art
After painting, new art on the walls is the next logical step. Affordable, but full of power and drama, new art gives any space a whole new look and feel.
Start with what the room was before and picot to an opposing school of art. If you had a fussy room done in pastels with a lot of bric-a-brac, go cleaner and more modern and choose art that's bold and graphic. If coming from a colder, more modern feel, go for art that's warmer and more classical in nature.
Sometimes a change in scale freshens a room, too. If you have a dozen small photos on your wall, consider getting two huge prints to make a statement – or go the other way around. Better yet, mix them up – a big, impressive piece on the accent wall and a collage of black and white photos over the couch. Your options are almost limitless.
If you'd like further inspiration, check out our huge collection of affordable art from every possible period and style. We're sure you'll find the ideal print to update the feel of your living room.
Don't Forget The Furnishings
Now that you've got the colour palette sorted, you're ready to think about the fabrics and furnishings used throughout the room. Of course, we're not suggesting that you rush out and purchase a new sofa, but you'd be amazed how much difference a rug or a few new cushions will make.
There are two main schools of thought to consider when adding soft furnishings. Either continue with the same colour scheme by picking out one or two tones to create an overall complementary and aesthetically pleasing result. Or, be bold and mix it up with cushions, rugs and curtains that create a striking contrast with the other elements in the room. This approach works particularly well in a room that is otherwise decorated in neutral colours!
When that's done, just put everything back together. The room will be clean, organised, and designed in a fresh new colour scheme with exciting new art to challenge the eye. All you did was paint, change the furnishings and hang some new art – and maybe clear out some old stuff and dust a little – but it will seem like a whole new room. And you may well fall in love all over again.